Week Commencing June 24th
This week has been a tough one, the children have certainly showed resilience, perseverance and determination; overcoming the many obstacles that assessment week throws at them! What was impressive was seeing the children checking their own answers independently, a difficult skill which we have been working on all year. 
Between assessments, we have had some impressive artwork created in the style of Henri Rousseau. We began by sketching animals, plants and trees individually, and then we applied these skills and put them together to create a rainforest picture. Separately to this, we experimented with oil pastels; looking at how to blend and mix colours to create shades and new colours. 
As well as this, we have been spending some time outside practising playing the recorder from sheet music ready for our performance on Thursday 4th July! The children cannot wait to show you what they have learnt to play, as well as share their poems with you!
We are super impressed with results so far from assessments, the children have worked so hard this year and it definitely shows. Assessments are not everything, but the children should certainly be proud of what they have achieved, we are very proud of them indeed!
Enjoy a weekend of relaxation in this beautiful weather!
See you next week!
14th June
Well it's certainly been a wet one this week. We've managed to get our at times to grab a quick run around and some fresh air, but we've mostly been camped upside with friends. It has given us plenty of time to play board games at break time, practise our sketching or model making skills, enjoy books and even the odd game of twister has occurred at lunch time, so it's not been so bad being stuck inside.
The rain certainly hasn't dampened our enthusiasm for our learning!
In maths, we have revised the names and properties of familiar 2D shapes and had a  look at some other 2D shapes like octagons, nonagons and decagons. We then went on to investigate the properties of 3D shapes (faces, edges, vertices). We are now ready to make some out of modelling materials and nets next week.
We put our brains to work in English as we researched the positives and negatives of developments in rainforests. With this knowledge we are ready to discuss our own viewpoints next week in a class debate on deforestation.
This knowledge came in handy in RE too where we looked at features of prayers and then wrote our own thoughts on what we are thankful for and would like to protect in rainforests.
We even managed to squeeze in some time to develop sketching skills, using Henri Rousseau's paintings as inspiration. Next week will think about how we can add texture and depth to our drawings using pastels and blending colours and shades together.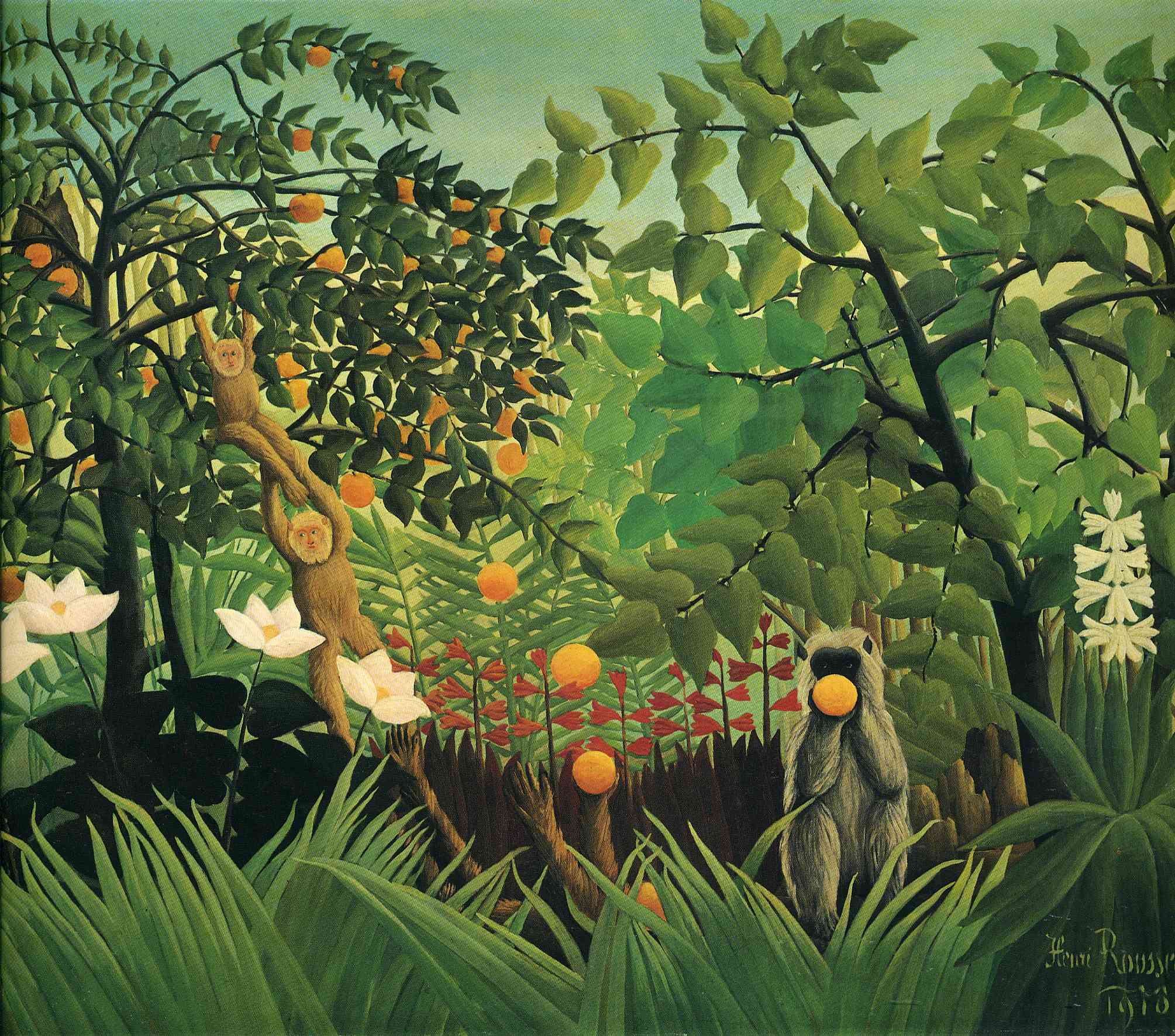 We finished the week sending out our invitations to Year 3's poetry and music performance, which is due to take place in early July. We are looking forward to showing casing our skills for our family and peers to enjoy.
Wishing all Dad's a happy and hopefully less rainy Father's Day this weekend!
See you all next week for more Year 3 rainforest adventures!
Friday 7th June
Welcome back! We hope you have had a fun, well rested and safe week off school. For a first few days back, it sure has been busy! We hit the ground running on Wednesday, changing 12-hour times to 24-hour times in maths and reading about why the rainforest matters in English. After this we set ourselves achievable targets to reach by the end of Year 3; such as being able to tie our shoelaces, know our times tables (2s, 3s, 4s, 5s, 8s and 10s) or perhaps used joined up handwriting. We finished the day by playing the recorders, what better way to end the first day back at school?
On Thursday we swapped around in maths, changing the 24-hour clock times back to 12-hour times, using am and pm to show the difference between morning and afternoon times. In English we introduced our new class text, The Vanishing Rainforest. Even though we have left ourselves on a cliff hanger on page 16, the children already have so many questions, opinions and ideas about deforestation! Our first dip back in the pool went swimmingly too, the children took to it like a duck to water, despite having a week off! After school was the Big Sing event for Macmillan, where a great turn out meant for a super event. Children bought cakes, entered raffles and even played a guess the teacher game, where teachers were disguised with funny face filters!
On Friday of course was Sports Day, which thankfully went well as we remained mostly dry and happy throughout! The children were commended for their impeccable behaviour, fantastic efforts and super sportsmanship. In the afternoon we got stuck into our new science topic, exploring why living things need food, and what different food types provide humans with. 
Thank you for your continued support, the new homework project menu has been handed out, and the children are quite excited! Feel free to hand in pieces of work as and when they are completed, as we will be sharing each piece with the rest of the class. Any questions please ask, thank you again for your support!
Friday 24th May
Lights, camera, action! This week Year 3 took advantage of the lovely weather and ventured outside to practise and perform poems they had written themselves. We loved hearing the super rhymes, rainforest vocabulary, awesome alliteration and seeing the creative actions that accompanied them. Great job Year 3!
In maths we continued to develop our knowledge and use confidence with time telling. Many children can now tell the time to the nearest minute using an analogue clock. Keep practising your time telling skills over the holidays ready for our final time lessons of the year on the 24 hour clock and calculating durations of events.
It's been a tasty week of topic learning as we smelt, touched and tasted rainforest foods. There was quite a selection and we all found something we liked and new tastes to explore. This tasting gave us more accurate descriptions for further writing this week and after half term.
Thursday's swimming session was a huge success with many children now moving up through the groups as they develop their swimming strokes, pace and stamina. In preparation for Sports Day on Friday 7th June we completed the flat race heats and practised running in relay races and our novelty egg and spoon style race. Keep your fingers crossed for sunshine o the 7th! 
Have a super half term break, 
Miss Brown 
May 13th
This week in maths we have started looking at telling the time. The children have recapped half past, o'clock and quarter to/past, as well as using a calendar to answer questions about the days in a month. Following this, the children have moved on to looking at telling the time to the nearest 5 minutes (e.g. 25 past), and recording this using digits. They found this a little tricky so any extra practise of telling the time at home would be extremely beneficial!
In English the children have started to look into poetry. We began by performing poems using intonation, volume and expression. Then we labelled the key features of a poem e.g. rhyming, repetition, alliteration and onomatopoeia. The children then applied their knowledge of animals in the rainforest to write animal poems. 
In Science the children have explored pollination, and the key parts of a plant in this process. This included taking apart flowers to investigate them, labeling a diagram and writing about the pollination process.
As our topic is rainforests, we have focused this week on animals of the rainforest, creating fact files about them and placing them in the correct layer of the rainforest. 
As part of our topic we will soon be making biomes in a bottle, where children will create their own 'rainforest' scene, growing a plant inside a 2 litre plastic bottle. Any 2 litre plastic bottles that could be donated to school for your child to use in this activity would be greatly appreciated!
Thank you for your continued support, 
Miss Brown :) 
May 3rd
It's been another busy week of learning in Year 3, the children are most certainly ready for an extra long bank holiday weekend!
In English we have been continuing our learning on the Great Kapok tree book based in the Amazon Rainforest. The children worked carefully to learn new vocabulary when labeling the plants and animals that feature throughout the text: ocelets, tapirs, tree frogs, jaguars, kapok trees and heliconias to name just a few. This new vocabulary will feed into our story writing over the coming weeks. 
Our topic learning took us into the layers of the rainforest this week. We have begun to show our understanding of the rainforest structure in our new classroom display. We also got the chance to investigate the climates of different rainforest and gave presentations as weather reporters to the rest of the class.
In science we continued to find out about what plants need to grow well. In groups we have set up experiments to observe plants in different conditions and see how their growth is affected. We thought carefully about our predictions and took key measurements, now we have to watch and wait.
" A fraction is an equal part of a whole." Has been said by many of us, many times throughout maths lessons this week. We have made brilliant progress with our accuracy when calculating fractions of amounts and comparing fractions. Next week we are beginning to use fractions in calculations with addition and subtraction.
Our learning took us to the local swimming pool again this week. For only our second lesson it was brilliant to see many children developing in confidence and technique already. Not even the safety drill practise with the loud horns fazed us and we are very much looking forward to our next lesson on Thursday. Although, the adults are hoping to make it to the pool side without setting off the shower sensors next week - we were a little wet!
Have a super bank holiday weekend! Have fun and stay safe!
Miss Brown 
Week Beginning 18th March
Wow - what a tricky week for all in school this week, assessment week now though is out of the way and the children were brilliant! It may not be the most fun week for the children, but it has really shown what they are all capable of, and I cannot wait to share their achievements with you at Parents' Evening in a couple of weeks!
My favourite, as I'm sure the children will agree, has to be their independent write in their 'posh books' as we call them. The children showed off using ambitious vocabulary to create a setting, character and plot based on Stig of the Dump, our class text. I've never read such interesting, capturing pieces of writing with descriptions that create a real image in the reader's mind, written by Year 3 children! Feel free to have a look at Parents' Evening.
We were also lucky to have a cricket training session from an external provider on Tuesday, which the children loved. The lady taught the children key skills required to be a great cricket player, focusing on hand-eye coordination and ball control. 
As well as assessments, the children completed some usual English and maths lessons, in which we focused on word classes (adverbs, verbs, adjectives, nouns etc.) and ambitious vocabulary choices for English. Then in maths we have been looking at fractions of shapes, and equivalent fractions using shaded shapes. 
In history, the children have looked at the changes in homes from the Old Stone Age, through to the Iron Age. We then compared this to a previous lesson showing changes in food, and concluded that as people realised that they could raise and farm animals, and grow their own crops, this is when they started to build more solid homes. We also looked at the benefits of settling near a water source, and settling on a hill.
We look forward to a more 'normal' timetable next week in school, where we begin to look at measuring lengths in maths, uses of rock in science, and using inverted commas to punctuate direct speech in English!
Week Beginning 11th March
Since this week was Science Week, we have been facing tasks slightly differently. We have been working like scientists, asking questions, observing, classifying items, analysing data and making predictions and conclusions. 
Our topic in Year 3 has been Water Around the World; we completed a reading comprehension activity in order to gather information about access to water across the world, which was then accompanied by some informative video content. The children then used their newly acquired knowledge to create informative posters about access to water around the world.
We looked at the importance of punctuation in posters to persuade people to save water, not waste it! The children learnt about the uses of rhetorical questions and exclamation sentences to grab the reader's attention and make them think. 
In maths we have been collecting, analysing and interpretting data about water usage. The children were particularly amazed by the amount of water used in daily activities such as baths, showers, toilet flushing and brushing your teeth. We interpretted data from a table and used this to create a clear bar chart to show how much water was used in each activity.
We were lucky to have a visitor who came in to teach the children all about water and your health during science week. The children completed a huge selection of scientific activities in the style of jigsaws, test tube activities, sorting activities, quizzes and target throwing question and answer activities. 
Week Beginning 4th March
In English this week we have looked into how to show not tell when it comes to descriptive writing. The children have read and analysed the descriptive writing of Clive King, the author of our class text Stig of the Dump. They went on to improve tell sentences like: 'The dump was a mess' into show sentences, like: 'The creepers hung like mossy, green curtains over the dump, hiding the fact that woodlice and earwigs were dropping from the roof.'.
In maths we have begun our unit on Statistics, where the children learn how to collect, analyse and interpret data. They learn how to present it in a variety of ways including tables, bar charts and pictograms. We collected data this week in the form of a tally chart, recording the votes for children's favourite book genre across the school, as well as favourite pancake toppings. This data was then analysed in order to create a pictogram. We could then interpret the data to answer questions such as what was the most/least favourite?
World Book Day was a huge success, we cannot wait to share some photos with you. The children especially loved sharing books with others, such as the Year 6's who joined us in the afternoon, and the parents who joined us in the morning (thank you!). 
Week Beginning 25th February
This week in English we have introduced our new text, Stig of the Dump - Clive King. The children have met the two main characters and they have also been introduced to the setting of the dump. Using information retrieved from the text, the children wrote interesting descriptive sentences to create the setting of the dump. We first drew a picture of what we envisaged the dump would look like, labeling the key parts using vocabulary from the text. After that we used this to write our descriptive sentence about the dump, aiming to start our sentences using a variety of openers, such as: adverbs, verbs and adjectives. 
In maths we have been exploring money; identifying different coins, adding and subtracting amounts of money, and solving problems including money. The children have whizzed through this, it seems we have some money experts in Green 1! They have particularly loved the problem solving element of this unit!
We were very lucky to have a visitor in our class on Thursday too. The visitor, who was from The Schools Waste Action Club (SWAC), came to investigate compost with the children. They took samples from our school compost bin and analysed the quality of our compost. The children came away with lots of useful information about what makes the best compost, and how it is helpful for the environment. 
Week Beginning 28th January
Wow- I would just like to start by saying how impressed we are in Green 1 by the hard work that children are putting in to their homework recently. Since we have set the menu homework challenge, where children are able to choose their homework tasks between now and 28th February, we have seen so much enthusiasm, motivation and pride in their homework. I cannot wait to see what other work is produced in support of our Stone Age topic, Rocks and Soils topic, or our Multiplication and Division maths unit.
Please do not hesitate to ask if you have any questions regarding the homework menu, and of course we run a homework club after school on Tuesdays where children and parents have the opportunity to use resources in the classroom (including us teachers!) to help with their homework. 
In maths this week we have introduced division, where children have learned to partition both 2 and 3-digit numbers to tackle division questions. They have been dividing numbers by 2, 3, 4, 5 and 8 mainly, as these are our focus times tables for year 3. The children began this method by using place value counters, so that they could physically partition numbers into hundreds, tens and ones. We then moved on to recording this pictorially in our books. 
In English, children wrote their final Stone Age diary entry, and we were impressed by the number of children who used ambitious vocabulary, conjunctions, adverbs and prepositions in their work. We would also like to congratulate all children as we see an improvement in their spellings, we know you work hard at home as well as in school, and thank you parents for your continued support. 
In Science this week the children have looked in more detail at how fossils are formed. They learned that fossils are formed inside sedimentary rocks, and they worked independently to order and record the fossilisation process. 
In PE this week, children had their first game of bench ball. We were blown away by the amount of great team work, sportsmanship and determination shown by all children. All children worked as a team to analyse the situation, apply techniques learnt in other sports, and communicate in order to get their whole team onto their bench. Well done Green 1!
Week Beginning 28th January
It's been another busy week of learning in Year 3! We have been continuing to nurture, develop and grow our multiplication skills. Many of use are now feeling much more confident with formal multiplication for larger numbers beyond the multiplication tables. We ended our week of maths learning with our first taste of Times Tables Rockstars! All children now have their log on details and so can begin practising at home too.
In English we have been introducing more ambitious vocabulary into our diary entries, based on The Stone Age Boy. Some of our favourites from this week include, dank, foraging, lopsided, hastily, vegetation, useful and flickering. We enjoyed summarising books we'd read and trying to convince others to read them too in reading this week - thanks to those who bought books  in from home to share. 
PE with Miss Denis was the most challenging and high energy lesson so far. Luckily we were inside the hall, we all agree it was pretty nippy outside! There were lots of new skills to master as we played tag rugby. Year 3 should all be clued up just in time for cheering on teams in the the Six Nations starting this weekend.
It was also an exciting start to the week when we received a delivery of fossils. Ammonites,'devils toe nails', fossilised coral, clams shells, scallop shells, tree bark and a fish skeleton, were all part of our mini fossil collection to investigate. We had the chance to hold, carefully observe, identify and sketch them as part of our rocks and soils science topic. Later in the week we investigated how trace fossils were formed, we made replicas by creating imprints in clay with shells and other natural objects. Do pop in and see our creations if you are near Green 1. 
Week beginning 21.1.19
In English this week the children have written another diary entry, this time based on all of the jobs people do around camp in the Stone Age, including: making and using tools, making fire, preparing and cooking food, and preparing and using animal skins. The children have been great at including technical vocabulary from our topic lessons such as hide, knapping, flint, hunter-gatherer and prehistoric. 
In Science the children have explored rocks in more detail, looking at how the 3 different types of rocks are formed, and how they are used in roads, buildings and other structural features today. We sketched different rocks such as chalk, marble, granite, slate and pumice, and the children investigated whether they were durable, permeable, dense and sorted them into the 3 rock types (sedimentary/metamorphic/igneous. 
In maths this week we have been using the expanded column method to solve 2-digit x 1-digit, and 3-digit x 1-digit questions. Although this is a tricky method with many steps, the children have taken to it like a duck to water, due to their prior love for the column method in addition and subtraction! This has been clear through how the children have set them out in their books, and how they feel more confident in adding the final two products to reach their total answer. 
In PE the children were introduced to bocce and curling, both of which they thoroughly enjoyed. It was great to see the children developing their own methods and techniques to get the ball closest to the jack, or the curling stones on the greatest target! I overheard lots of great team work, advice and compliments whizzing around the room - what a lovely atmosphere it was!
Week beginning 14.1.19
We are lucky to have Miss Dennis with us now on a Thursday morning who will be introducing the children to less common sports in their PE lessons. So far she has taught them all about dodge ball, as well as volley ball! The children are loving it so far and it is great to see them working so well as a team!

In English the children have continued to look at historical diary entries, and have written one entry from the perspective of the Stone Age Boy, based on our class text. The story so far has been about a modern day boy who trips and falls down a hole, landing in a cave. When he wanders out in to the open he finds himself lost, in the Stone Age!
In topic this week the children have become experts in the tools, food and use of animal skins in the Stone Age. We found great and gruesome facts out about these subjects and the children have created some super informative leaflets! As well as this, the children have produced some beautifully presented timelines based on knowledge from the previous week about the chronology of events in the Stone Age. Feel free to have a glance up at them on our topic display board!

In science children have learned about the layers of the earth, based on the book 'The Street Beneath My Feet'. As well as this, they have looked into how the 3 different types of rock are formed.
In maths, we have introduced the grid method to solve 2-digit x 1-digit number problems. The children have been splitting the 2-digit number into tens and ones, and then multiplying each part by the 1-digit number. For example: 23 x 4 = 20 x 4, and 3 x 4. Then we add both answers together to get to our final answer!

 
Welcome back! Happy 2019!
Week beginning 7.1.19
Welcome back, I hope you have had a lovely break! 
We have started the new year with great motivation and determination in Green 1. In English we have been looking at writing historical diary entries. As well as identifying the features, children have looked through other historical diary entries, and practised using ambitious vocabulary to help when it comes to writing their own diary entry next week.

This has been informed by our topic lessons, as the diary entries will be written as if we are in the Stone Age! So, the children have been enthusiastically learning about the Stone Age, including: why it is called the Stone Age, when it falls in world history, the chronology of events within the Stone Age, and some key facts about daily life. This information will feed into their diary entries as they write from the point of view of the Stone Age Boy, based on our class text!

In maths we have been recapping and applying our knowledge of the 3, 4 and 8 times tables. The children have applied these to pictorial and worded problems, as well as writing word problems for their friends to solve! 
Next week we will move on to looking at multiplying 2-digit numbers by 1-digit numbers using our times table knowledge to help us. 

In Science, we have started our new unit - Rocks and Soils, where children have been showing the school value 'Wonder and Curiosity' as they ask relevant and interesting questions about the topic and map out what they would like to learn about Rocks and Soils. We have also introduced the 3 different types of rock, sedimentary, metamorphic, and igneous!
Week ending December 7th
What an exciting couple of weeks! It all started when Year 3 had a photography workshop in school with Mr Fuller, learning how to 'paint' with light. The fabulous drawing with lights and the eye catching rainbow around us images, produced from the workshop, formed part of the Year 3 art gallery parent last Friday.
Also on display in the gallery was the Arcimbaldo inspired fruit and vegetables portraits, based on the colours of harvest. The centre piece of the gallery was the creative dot tree based on concentric circle art by Kandinsky and inspired by the reading of the book, The Dot. Each dot represented a child in the year group. At the back of the gallery were the majestic Egyptian style headdresses, created to wear in the story telling lessons next week. Following the learning in science on light, the sun and shadows, silhouette art was created with pastel sunset backgrounds and silhouette shapes cut out for the foreground. Photographs, collage, painting, oil pastel sketching and finally printing. The children explored creating images using cool and warm shades from the colour wheel, using circular objects for printing.
Thank you so much to all of the visitors to the gallery. Don't worry if you missed it, you can enjoy some of the art in the photos below.
There were lots of other visitors to school last week. On Monday the school welcomed over 300 grandparents for a fabulous afternoon of arts and crafts. The Year 3 children and grandparents spent the afternoon busy creating baubles, wreaths and rocking santas and snowmen.
Thursday was also an exciting afternoon with many visitors to the School Christmas fair. Yet again it was a huge success in raising money for the school fund. A big well done and thanks to the parent hub!
The Christmas fun continued as Year 3 have been busy rehearsing lines, actions and lyrics ready for the upcoming KS2 Christmas productions - if you've got tickets you are in for a festive treat.
Please ensure Christmas costumes are in class by Friday 13th December, ready for the Monday morning dress rehearsal. The Christmas count down is on!
Week beginning 26th November
Even though the timetable for this week had been swapped and changed many times due to Christmas practises, the children have had a super week! They have all dealt so well with the changes, thrown themselves wholeheartedly into Christmas practises and knuckled down with the usual challenges in lessons!

We have this week introduced ancient Egyptian mummification - which the children have loved! We learned all about the process in our topic lessons through research, watching videos, and role play. Then we applied this knowledge through English lessons in writing our own non-fiction texts about the mummification process. Children selected and used key vocabulary such as natron and canopic jars, as well as adverbs and conjunctions!

In maths we have started looking at multiples of 4. The children have identified the multiples of 4, learnt a song to remember them well, and then applied this to answer multiplication and division calculations. Next week we will investigate further the link between multiplication and division by exploring fact families.  
Week beginning 19th November
What a busy week in Green 1 this week! We are well and truly in full flow practising for our Christmas performance! The children have loved practising our special Year 3 song Gold by Britt Nicole! We even have actions to help us to remember the lyrics! If you want to have a practise at home the link for the song is available on Class Dojo - Class Stories, as well as being available to search on YouTube.

In PE we have been practising our rock and roll style dance to Rocking Around the Christmas Tree, as well as outdoor team games with Glen too on Wednesdays! Glen mentioned to the children and I that he thoroughly enjoyed his lesson this week due to brilliant behaviour - making for a particularly productive and enjoyable PE session! Well done Green 1!

You will hopefully have received your hand written letters of invitation from the children inviting you to our spectacular art gallery on Friday 7th December at 2:30pm in the school hall. The children are excited to share their artwork with you! We also are lucky enough to have a visitor to Year 3 on Monday next week, a photographer who will be working with the children to create amazing images using light! These will be showcased at the art gallery event too!

In maths we completed our Addition and Subtraction unit by learning how to check or work using the inverse operation! Children were checking their addition questions by reversing the question to create a subtraction calculation! It was tricky at first but once the rule was clear, the children were able to apply this to check their work! We also began our Multiplication and Division unit, where the children explored the 3 times tables. Next week we will go onto exploring the 4 times tables - how exiting!

In English the children have been super excited to find out interesting, weird and wonderful facts about ancient Egypt. They then have been using these facts, as well as their knowledge about the structure of non-fiction texts to create their very own non-fiction texts!
 
Week beginning 12th November
Another exciting week in Year 3!
In maths, the children have continued to develop their understanding of column addition and subtraction with 3 digit numbers. The progress in this area has been quite amazing due to the children's focus and perseverance! Well done Year 3!
The children continued to develop their understanding of non-fiction text features through reading comprehension activities and use of subheadings to accompany their own research. This week the non-fiction texts were all about the importance of colours in history, in preparation for the children moving on to find out about the Ancient Egyptians. On Friday as part of the Children in Need activities, Year 3 wrote superb informative captions to accompany images all about the important charity.
The week finished off with a rather fabulous Children in Need catwalk in the hall! Thank you to everyone who took part in Spotacular Friday and was able to donate money through non-uniform donations and the biscuit sale.
Look out for the Year 3 Art Gallery parent event details which are soon to be revealed.
Week Beginning 5th November 2018
Well, the first week of Autumn Term 2 went brilliantly! We have absolutely aced the column method for addition, and next week will be looking further at this method for subtraction. We will also be using this method for adding and subtracting two 3-digit numbers! 
We have also started to explore non-fiction texts this week. The children have been introduced to the features of non-fiction texts including a contents page, index, glossary, page numbers, headings and sub-headings, fact box, diagrams, illustrations and captions. We are aiming to write our own non-fiction texts for the reading corner!
In preparation for our art gallery, the children have made silhouette pictures resembling their lives/likes/interests. They made backgrounds using chalk and/or oil pastels, and then cut out shapes from black paper to create silhouettes. 

In P.E the children have begun to practise rock and roll style dancing in preparation for our part in the Christmas performance - they are loving it (as am I of course)! 
As well as the usual subjects, this week we have set aside time to learn about WW1, Remembrance Day and the Centenary. The children chose their mediums to produce beautiful poppies. Some chose shiny red fabric, others chose red felt, and some children used red napkins to create layered poppies. All of the children's poppies are now on our Centenary display in the hall - I will add a picture to the website asap! As well as this, we read a lovely text about WW1 which the children really enjoyed - Flo of the Somme by Hilary Robinson. 
Week Beginning 22nd October 2018
The final week is done, now for a well earned break for Green 1! 
We ended the week with a book review in English, where the children were able to choose a book that we have read this half term and review it. This allowed children to apply their knowledge of sub-headings and paragraphs to help them to present their knowledge and understanding of the texts.
In maths we introduced the column method for addition and subtraction, the children (and I), have absolutely loved this method! We will continue to look at this when we return from our break, focusing on carrying (addition) and exchanging (subtraction) numbers. 
In Science we have continued our exploration of light, this time looking into how we see colours, and how light is split into the colours known as a spectrum. The children foundt his fascinating and were all able to explain how they could see items of a certain colour, e.g. 'I can see the chair is blue because the object is absorbing all the other colours in light apart from blue, which is reflected back into our eyes.' This was very impressive!
Enjoy your break, we are looking forward to investigating more about light and colour when we return after half term. I am especially looking forward to our focus topic of Ancient Egypt and the colours through history! Stay safe, have fun, and see you all on Tuesday 6th November!
Week Beginning 15th October 2018
It has been another creative week in Year 3! The children have created two pieces of independent writing, a story based on an image of a fantasy setting and a letter based on our class text, 'The Day the Crayons Quit'.
In science, the children used their developing knowledge of the benefits and risks of the sun to create posters. Excitingly next week, we will choose which of these posters is emailed across to remind children in Omihi School, North Canterbury New Zealand, about sun safety.
In maths we have explored different methods to add and subtract hundreds, tens or ones from a 3-digit number. We started by looking at number lines, which the children found really effective. After this we looked at partitioning, a more difficult method to learn, but once you understand it, really effective! We looked at why for example 370 + 60 would be split into 370 + 30, then 400 + 30. Finally, a practical method was also applied, and transformed into a written/pictorial method in our books! With this method, children are used to using place value grids (Hundreds, Tens and Ones) with counters, so we drew these out in our books to help us answer some addition and subtraction questions. Next week we will focus on learning a new method, the column method.
School reports were sent home on Friday with the children, please do let us know if you require a duplicate copy or a copy sent via email for any reason. If you would like to discuss how your child has settled into Year 3 then please do sign up for a parents' evening meeting, appointments are still available for both Tuesday 23rd and Wednesday 24th October. 
Week beginning 8th October 
This week the children's Christmas card designs were reveled and sent home this week - be sure to get your orders back to school with the correct cash if you'd like to order some personalised goodies, in time for Christmas!
In English, we have been practising using commas in lists as part of our ongoing letter writing topic. The children were able to come up with many imaginative lists detailing to how Duncan (our book's main character) could use his crayons to stop them from quitting. 
In Maths we have been looking at 3 digit numbers and addition and subtraction of ones and tens, using informal methods such as counting on and back on number lines. Next week we will concentrate on adding and subtracting crossing hundreds (e.g. 299 + 30, or 304 - 50 etc.), as well as adding hundreds to a 3-digit number, and spotting patterns withing addition and subtraction.
In science, we were fascinated by the video clips and facts we were able to find out about the sun. These were used to create mini sun fact files. We will go on to think about the benefits and dangers associated with the sun. As well as how and why the pupils of our eyes react to light. 
In PE this week we have continued our gymnastics unit by looking at different types of jumps. This leads on from our focus of balances as children can now perform a balance, move between balances and jump from a bench safely and aesthetically!
Art takes a different focus next week with Mr Honey. As part of a whole school project, the children will create endangered sea creatures, mammals or seabirds, using plastic waste. This is part of a national competition to raise awareness of the problems of palstic waste in our seas and oceans.
PLEASE SEND ANY CLEAN PLASTIC WASTE INTO SCHOOL, NEXT FRIDAY, TO BE USED IN THIS ART LESSON.  Thank you in advance, and thank you for your continuous support!
Week beginning 1st October
Well done to all of the children in Green 1 for showing such determination, perseverance and positivity this week, when completing their first Year 3 assessments! 
On Wednesday Green 1 embraced a new approach to learning by taking part in 'No Pens Wednesday'. The children developed their speaking and listening skills in English, through role play and interviewing of characters in the current class text 'The Day the Crayons Quit'. Whilst in maths, counting on and back and ordering 3 digit numbers using number lines was the focus. In the afternoon, Year 3 continued creating works of art ready to exhibit at the Year 3 gallery (date to be confirmed shortly for next half term). This week's art focus was based on the works of Arcimboldo.
The children created their very own fruit and vegetable heads.
a and an determiners, as well as commas in a list have been our class focuses for the week in English as we continue our letters topic. In handwriting it has been wonderful to see more children becoming confident to use letters joins in their writing, beyond handwriting practise sessions.Whilst in maths we have moved onto addition and subtraction using 3 digit numbers. Science has been hands on again this week with torches. The children investigated the reflection of light and the properties that make a material reflective.
For those visiting the Goose Fair - stay safe and have fun!
Miss Brown
Week beginning 24th September
This week the children have applied their letter writing knowledge during computing by typing up a letter on Microsoft Word. The children were practising opening Word, starting a blank document, typing and changing font e.g. size, type and colour, as well as saving and closing documents.
We also began one of my favourite books: The Day the Crayons Quit! We predicted what the story would be about, read the story and then identified nouns and adjectives in the story. The children then used the nouns that they had identified in their work when developing use of 'a' or 'an' as a determiner. The children learned that 'an' is usually used only when the noun starts with a vowel, otherwise 'a' is used.
In maths we completed our 'Place Value' unit by looking at ordering and comparing numbers. We then consolidated our learning by looking back over all the things we have learned so far, including: hundreds, the value of each digit in a 3-digit number (hundreds, tens and ones), finding 1, 10 and 100 more or less than a number, writing numbers in words and digits and counting in 50's from 0. Next week we look forward to moving on to our 'Addition and Subtraction' unit.
 
Week beginning 17th September
Happy Friday! 

Well, what a super second full week in Year 3! The children are now experts at letter writing and have written a letter to our main character Hassan persuading him that the UK is a colourful place! To go with this, the children chose a feature of the UK in the atlas, e.g. population or climate, and created their own colourful map to show the colours of the UK! The children used keys to show what each colour showed and some children even managed to label capital cities too! 

In maths we have been learning how to find 1, 10 and 100 more or less than numbers up to 1000. We have also then compared numbers up to 1000 using different representations; pictures, counters, number cards, place value arrow cards, base 10 equipment and digits were all compared! 

We look forward to another busy week next week, and I hope you are all ready for harvest celebrations on Monday!

See you next week! 
Week beginning 10th September


What a super first full week in Year 3!

The children have all settled in well with new routines, and have dealt well with lots of new changes in class and around school!

In English we have become experts on letter writing, we all know the features of a letter off by heart I am sure! After reading letters, annotating them, ordering them and answering questions about them, the children were ready to write their own! We wrote a letter from the point of view of Hassan, the main character from our current text, The Colour of Home. I am amazed to see how many children write with beautiful, joined up handwriting!

In maths we have become masters of hundreds, tens and ones! We can identify numbers up to 1000 represented in many different ways! We are continuing to practise being able to identify the value of digits in a 3 digit number. For example, what is the value of the 3 in 534? 30 of course!

In Science we investigated light, and how dark is the absence of light! The children decided on 7 questions that they would like to know the answer to by the end of this unit, and we will do the best we can to answer all of these during lesson time! In our first lesson we used objects hidden in cardboard boxes, holes and torches, to explore whether we can see objects without light, with small amounts of light, and with full light exposure!

In topic we looked at maps of the UK using an atlas, the children found many uses of colour in an atlas, such as to show climate, population and land use. We then compared these findings to maps of Somalia to show the difference between the two countries, since Somalia is the setting of our class text.

Finally, the children started gymnastics, and we practised balances on 1 point, 2 points, 3 points and 4 points! Children were especially good at 3 point balances!
Hello and welcome to Year 3!
We have had a brilliant start so far, the children have come in confidently and with great enthusiasm!
Our first topic is The Colours of Life, which we are excited to explore! The first two texts we will be looking at are The Colour of Home and The Day the Crayons Quit!
In English we will look at letter writing, picking apart the features of a letter, and look at the order, to then apply this knowledge to write a series of our own letters.
In maths we will begin by looking at Place Value, where the children will explore the value of each digit in a 3 digit number, up to 1000. This includes investigating hundreds, tens and ones (or units), as well as comparing numbers and ordering them on a number line!
In topic lessons we will be investigating all of the uses of colour in an atlas, for example to show population, climate or land use. We will then use this knowledge to create our own map to show how colourful the UK is, in an aim to persuade a character from the book to want to stay in the UK!
In science we will be starting our Light unit, exploring where light comes from, what objects are light sources, and how shadows are formed!